My Trading Name

Services Provided

Working Facilities

Terms of Business
These services, from a business established in 1976, draw on over 25 years of pro­fessional knowledge and experience. From 1976 to 1991 I provided any, some or all of these services in a wide range of application areas.
Organisation & Methods Design

Using a formal activity-analysis method, this service helps you make your enterprise more profitable, more economically stable, more commercially robust, more environmentally friendly, and more ergonomically amenable.

Project Planning & Management

Based on a formal analytical charting method, this service helps you to plan and successfully carry out a project.

Software Development & Support

This service helps you to see where and how computerisation can benefit your business, find out what kind of software you need and what it should do, evaluate and select packages, adapt or originate software to meet your particular needs, set up your software and learn how to use it to best advantage.

Technical Documentation & DTP

This service is the best way there is of telling others about your product — how it's structured, how it works, how to adapt, interface and maintain it, and above all how to use it. It includes selection and usage of media such as paper, on-line help and hypertext document servers.

Education, Training & Presentations

Built on a synthesis of state-of-the-art knowledge and real-world experience, this service leaves you not only technically informed, but also technically street-wise.
The general procedure I evolved for carrying out client assignments is as follows.
Find out enough about your business and tell you enough about mine so together you can identify those of your activities to which my areas of expert­ise relate, or to which my knowledge, techniques and skills can be applied.

Identify assignments within your current projects of the kind which will benefit from being done this way — assignments like planning a project, writing a spec­ification, designing a data structure, developing some software, or pro­vid­ing telephone or call-out support for systems and software in the field.

Provide a summary of each assignment you give me, incorporating whatever changes you may require for it to meet with your approval. Included would be a staged plan suggesting how the work could be done, and an acceptance schedule against which each stage of the plan may be checked for correctness and completeness.

Gather all necessary input information by interview and from existing docu­mentation, listings and demonstrations. This is usually supplemented later by other information and answers to questions obtained by telephone, fax and data transmission, or by mail in printed form or on diskette.

Carry out the work off-site using my own in-house facilities, thus reducing de­mand on your resources. Reports are provided at the end of each stage. On-site approval meetings and acceptance tests are also conducted if required. Interim progress reports, amendments to documentation and software fixes are expedited by telephone, fax, data transmission or a diskette in the mail.

Provide sporadic on-demand assistance after the assignment has been compl­eted, thus maximising your investment in the initial learning curve and mini­mising support turn-round time.
Assignments
Most IT projects — whatever their size — can be broken down into a number of readily demarcateable assignments. Some of these assignments, because of their size and nature, may require a large interactive team located in permanent central accommodation with expensive equipment and facilities.
Other assignments — again by virtue of their size and nature — can be done better, quicker and more cost-effectively by an individual working for the most part in isolation who can be hired complete with built-in accommodation, equipment and facilities when required. Assignments which fall into this second category benefit greatly from the concentrated creative effort inspired by the quiet, conducive, in­terruption-free environment from which I have provided good service to clients for many years.


My study — the base from which I operate — is a dedicated well-equipped 12' by 10' ground floor room with direct access to entrance hall and washroom: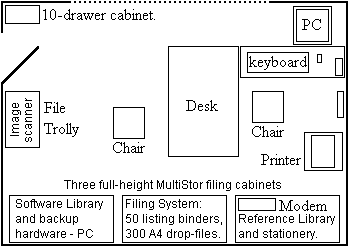 The software library, filing system and reference library are stored in three 72" by 39½" Twinlock MultiStor lock­able steel filing cabinets, which are kept locked except when access­ed. The window has 'vision net' and a venetian blind to secure the study from visibility from the outside. All confidential information is thus very secure, not least because it is located in a type of premises where one would not expect to find such infor­m­ation.

This quiet secure environment with its top quality 'office' and communications facilities (which include a telephone answering machine and a voice recorder) in­spired and promoted the concentrated productive work which my clients grew to appreciate. It is an environment which no company is likely to be able to provide to an on-site contractor, and its occupant has not been pre-fatigued by a morning commuter journey.


There are many benefits to using the services of a freelance self-employed indep­endent software artisan like me.
Flexibility

I am ready, able and equipped to carry out your assignment. You hire me as you require me: you are not saddled with an on-going commitment either to me or to providing and maintaining the accommodation, equipment and services I require. I can take on small projects completely, subcontracting any extra help required. For large projects, my broad

aptitude profile

equips me to become an effective member of the team.

Continuity

At the end of an assignment, the learning curve is not lost. The up-and-running knowledge is still accessible. A month, a year, or later this knowledge is still only a telephone call away and able to provide on-tap continuity for your products.

Diversity

Over 25 years of computer software experience in the three major application areas of communications, navigation, and business systems, are able to con­tribute to your assignment the ideas and techniques developed within a var­iety of other disciplines.

Effectiveness

Top quality equipment and furnishings in a quiet home location provide an environment conducive to productive work. This coupled with state-of-the-art communications facilities, provides you with good value for money plus ac­cessible up-to-date information on the progress and content of your assign­ment.

Motivation

I am bound to preserve the good name of my source of livelihood. My prime directive is therefore to produce satisfied clients. The fact that I dare not risk compromising this prime directive is your assurance of my best endeavours on your assignment.
Memberships


1982-94: MIDPM Member: Institute of Data Processing Management

1991-95: MRIN Member: Royal Institute of Navigation

1983-93: FInstSMM Fellow: Institute of Sales and Marketing Management
My 25 years in the computer industry gave me a large reservoir of technical and historic knowledge. This enabled me to be perceptive of the likely future shape and direction of technology and hence adaptable to changing ideas, markets, fashions and trends. It gave me an awareness of what makes computer software marketable yet future-safe.
I also acquired a good measure of self-discipline. This gave me the power to focus innovative ideas on cost/benefit and quality objectives. Coupled with my knowledge and experience, it also gave me the confidence to challenge new thinking with the caution of hindsight. I also gained the kind of mind which is able to switch instantly between overview and detail. As a programmer this made me quick to spot the wider potential of specialised ideas and techniques. As a writer it give me an un­common ability to communicate difficult ideas and concepts in simple terms.
Running my own business for 15 years give me a broad-based aptitude profile. I have had full contractual responsibility for the projects my business has handled, in which I have been recognised for quality of work. My clear approach to project management can be seen in such examples as Project Marketeer and EBS Nomad. I have also had administrative responsibility for the up to 7 subcontractors which I have had from time to time working on other 'client-managed' projects.
My Aptitude Profile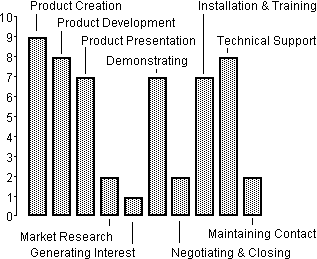 This aptitude profile, which displays my relative aptitudes in different skills, was derived from the following self-assess­ment tables.
Each skill is rated on a scale of 1 to 10. Each skill corresponds to a bar on the above chart, and its rating out of 10, is shown in bold. The sub-skills of which each main skill is made up, together with their respective ratings out of 10, are shown beneath their corresponding main skill in normal print.

Product Creation
9
Devising new ways of using software and technology
9
Applying these to making life easier and more productive
9
Realising them as commercially saleable product designs
7
Product development
8
Writing software and product specifications
7
Developing and perfecting software
9
Product Presentation
7
Writing system and user documentation
8
Creating basic product sales literature
6
Market Research
2
Finding what the market perceives its needs to be
1
Finding how individual prospects perceive their needs
3
Generating Interest
1
Finding new potential prospects
2
Initiating contact — cold calling
1
Getting foot in the door and establishing a rapport
0
Demonstrating
7
Showing people how the product works
7
Showing them how it applies to their business
6
Answering technical questions at all depths
8
Negotiating & Closing
2
Originating terms & conditions
5
Working out an individual contract
2
Arguing over the points in a contract so as not to get done
1
Closing a sale
0
Installation & Training
7
Loading & configuring software on customer's hardware
8
Importing customer data
8
Training customer staff to operate the software
7
Tips on the best way of applying it to the customer's business
6
Technical Support
8
Telephone support on use and application
8
Fast return-of-post fixing of problems
8
Fast software enhancements from customer wish lists
7
Maintaining Contact
2
Remembering to call customers regularly
2
Checking them out for further potential sales
2
Finding onward recommendation sales possibilities
3
The following are quotations from some of my former clients taken from trans­cripts of telephone interviews in July 1992 carried out by an independent business consultant working through my local Training and Enterprise Council.
from an article in Practical Computing May 1989
from Dick Stockman of Jaguar Communications plc.
from Janet Hudson of Adtrack Ltd.
from Les Wallen of Wallen Antennae.
from Cheryl Butler of Eastleigh Borough Council.
from Ian Keeling of Rotherham Training & Enterprise Council.
from André Howard, Network Manager, CSL International Ltd.
from Jane Skinner of HMS Warrior 1860.
1) Practical Computing May 1989
"...in the three years Jaguar Communications plc has
been using Marketeer, the company has grown 70%
annually and virtually doubled sales volume..."
"Jaguar Communications ... sends 3,000 mailshot items a month, and, according to Jaguar's marketing manager John Early, one person using Marketeer can send out 1,000 items in a working day...
"The system provides information on where to concentrate your efforts and lets you turn round mailshots and telesales quickly' says Early 'You spend less time making spurious notes... In this company the most valuable asset is customer and sales information... you don't want that information only in a salesman's brain or sitting on the back seat of a car. You want it centralised...
"At Jaguar, Marketeer is used on a 40-terminal Ethernet network of IBM PCs, compatibles and laptops... "
From the article 'Mailshot Management'
by Holloway McCandless
Practical Computing, May 1989
| | |
| --- | --- |
| Company: | Jaguar Communications plc |
| Type of Business: | Data Communications Networks Supplier |
| Main Use: | Customer Database, Telesales & Mailing |
| Size of Database: | 3,500 customer records |
| Originally Installed: | March 1986 |
| Current Level: | 40-user |
| Hardware: Platform: | Linked PC Ethernet Networks on Three Sites |
| Software Platform: | DOS + Novell |
About Marketeer: "Marketeer, is a marketing tool which at its basic level can be used just as a sales database — simply a name & address list. But it can do so much more in terms of the selective organisation of your customer base by what they do, by what sort of products they are interested in, what is the last thing they did with us, what is our next action with them and so on. It really can be described as a professional marketing tool. There are lots of good things about it — it looks very attractive, it performs an excellent function, the manual is good. It is a very sophisticated tool which is only used at its best when you have users who are com­mitted to it."

About Rob Morton: "In creating Marketeer, Rob Morton researched the whole business of marketing perfectly, in fact brilliantly. He wrote a superb program which was right at the forefront. The manual he wrote [which is an on-line manual where you can just press a function key to get help] is brilliant — and doesn't just cover how you use the package, but also goes into how you actually use it to do marketing! He's an extremely honest, hard-working, reliable, innovative individual — an ideas man and an extremely clever programmer. He's not a fly-by-night mer­chant. He's there. He'll support you and that's very important. In fact, since we had Marketeer installed, we have had him do various bespoke work for us in the company. So I have a long experience of his work. He wrote for us a stock-holding database and some management statistics tools. He even did some bespoke work for us on Marketeer."
Dick Stockman, Commercial Director, Jaguar Communications plc., Tel: 01727 52345
3) Adtrack Ltd
| | |
| --- | --- |
| Company: | Adtrack Ltd |
| Type of Business: | Market Research & Advertisement Tracking Service |
| Main Use: | Client Database, Telesales & Mailing |
| Size of Database: | 2,400 customer records |
| Originally Installed: | August 1989 |
| Current Level: | 5-user |
| Hardware: Platform: | PC Network |
| Software Platform: | DOS + Novell |
About Marketeer: "Our Marketeer system is the 5-user version running on our Novell PC network. We use it to keep details of our 2,400 or so clients and to print off letters and send information to them directly. I have been involved with sending out some of these mailshots for which I have used Marketeer to set up a target list and then just print off a whole batch of letters to send out to clients. It's great. That's a really good facility. Marketeer makes it particularly easy for us to keep our client records up to date and gives us the facility to keep track of our contact with each of them and their contact with us. It also enables us to find instantly and exactly what the last contact with any one of them was about. So for example, if someone leaves a client company, we can find out the name of the person who has replaced them and immediately enter it into the system. All our client data is thus always up-to-date and instantly available to all 5 users on the network."
About Rob Morton "Regarding support, Mr Morton is always very approachable and available, and if we have any problems we just contact him. It works very well for us."
Janet Hudson of Adtrack Ltd, Tel: 0191 261 2667
4) Wallen Antennæ
Company:
Wallen Antennae
Type of Business:
Manufacturer of Vehicle Aerials for Telephone,
Band III and Satellite Communications Systems
Main Use:
Customer & Dealer Database, Telesales & Mailing
Size of Database:
Large International Database of undisclosed size
Originally Installed:
March 1991
Current Level:
5-user
Hardware: Platform:
IBM-compatible PC/Network
Software Platform:
DOS/Novell
About Marketeer: "Marketeer is very user-friendly and has a very powerful report generator. It's ideal for doing mailshots and the quality of the support is superb."
About Rob Morton: "The service backup Rob Morton provides is excellent. I think it's marvellous that he's always available on the phone to talk a problem through — even when I know that on many occasions I should have looked it up in the book. He also listens carefully to any particular requirements or objections we have and modifies it to suit our needs. He knows what he's doing. The demonstration pro­gram is good, and his offering to come down and demonstrate it to us was greatly appreciated. I also liked the offer of tuition."
Les Wallen, Managing Director, Wallen Antennae, Tel: 01843 582864
5) Eastleigh Borough Council
| | |
| --- | --- |
| Organisation: | Eastleigh Borough Council |
| Type of Business: | Local Authority |
| Main Use: | Europe-wide Direct Promotion of Tourism in Borough |
| Size of Database: | Over 12,000 records |
| Originally Installed: | March 1991 |
| Current Level: | 5-user |
| Hardware: Platform: | IBM-compatible PC/Network |
| Software Platform: | DOS/Novell |
About Marketeer: "I think the product is extremely straight-forward and easy to use and I have recommended it to people at other local authorities. It is ideal for keeping large quantities of names and addresses, particularly for target market­ing."
Cheryl Butler, Tourism & Arts Officer,
Department of Leisure & Tourism, Eastleigh Borough Council, Tel: 01703 622205
6) Rotherham Training & Enterprise Council
| | |
| --- | --- |
| Organisation: | Rotherham Training & Enterprise Council [ TEC ] |
| Type of Business: | Government: Link for training providers & requirers |
| Main Use: | Contact with Associate Members of the TEC |
| Size of Database: | Includes most businesses in the Rotherham area |
| Originally Installed: | May 1989 |
| Current Level: | Single-user |
| Hardware: Platform: | DEC PC |
| Software Platform: | MS-DOS |
About Marketeer: "EBS Marketeer was invaluable in the run up to the launch of the TEC for Rotherham, since then it has met all our needs in the administration of our Associate Membership Scheme and has never let us down."
Ian Keeling, Business Services Officer, Rotherham TEC, Tel: 01709 830511
7) CSL International Ltd
| | |
| --- | --- |
| Company: | CSL International Ltd |
| Type of Business: | Computer Systems Distributor |
| Main Use: | Dealer & Corporate Customer Database & Mailing |
| Size of Database: | 6,500 customer records |
| Originally Installed: | April 1988 |
| Current Level: | 10-user |
| Hardware: Platform: | Six-terminal PC Ethernet Network |
| Software Platform: | DOS + Novell |
About Marketeer: "I'd certainly recommend Marketeer. It's got a lot going for it — definitely for a telesales-based operation where the computer controls practically everything. It can also do mailshots and individual letters — you can build up standard paragraphs. So for instance when a company has procedures for sending out standard documentation to new contacts, it's very useful. We looked at various other marketing packages out there before we picked this one. It's not the most expensive and it's not the cheapest. It suits us and it's very useful for what we need. If a customer rings up and says 'I want to do some mailshotting or some sort of telesales work what would you recommend?' I always tell them that I use Market­eer in house and give them Rob's number."
About Rob Morton: "When Marketeer was installed, Rob came in, set it all up, and then spent a couple of days with our sales people training them up on it. I found him to be very helpful afterwards. For example, we had some queries on setting up printers, and I found I could ring him up and he'd give me the information I needed, and between us we'd work things out. When we needed updates we would send various files back and forth and he'd send us back disks with the relevant updates in place. The other thing he does when you have a problem is to ring round some of his other big customers to see if they've come across the same thing and he builds up the best solution that way."
André Howard, Network Manager, CSL International Ltd., Tel: 01793 784441
8) HMS Warrior 1860
| | |
| --- | --- |
| Organisation: | HMS Warrior 1860 |
| Type of Business: | Tourism: Promoting Visits to a Victorian Battleship |
| Main Use: | Customer Database & Mailing |
| Size of Database: | Over 12,000 customer records |
| Originally Installed: | May 1989 |
| Current Level: | Single-user |
| Hardware: Platform: | IBM PS/2 Model 50 |
| Software Platform: | DOS |
About Marketeer: "I find Marketeer a very easy program work with — particularly as I'm not computer-minded. It's user-friendly and that's what I like about it. It really does guide you through every area and if you're not sure what you're doing, you never go too far wrong. You can always get back into where you are supposed to be. I find that the main benefit, particularly as I do not have a computer back­ground nor had the time for lengthy training. I think in that respect Marketeer is very good: it guides you through each particular sequence of events. You may not necessarily get it first time round, but once you have had a few goes on it and you begin to see the logic behind it and it is really a very good simple-to-use program. I tend to use Marketeer mainly for mailshots: I have 12,000 names and addresses on there and it still has a lot more capacity left. It took a long time to get them all on there, but it's super because now I can draw off exactly what I want when I want it. In fact I can draw out the particular addressees I want and I can get them in many ways: for instance, if I can't remember the names I can find them in other ways. The versatility is good. The reliability is good. It's just what I need. It really is a super program. I use it more than anything else, I must confess. I tend to use that more than Word Perfect which is quite surprising, but I find it so good."
Jane Skinner, General Manager, H.M.S. Warrior 1860, Tel: 01705 291379
This is the agreement through which I sold licences to use my software package Marketeer from 1985 to 1991. I have written a commentary to clarify certain clauses.
Definitions
The first person forms (I, me, my etc) refer exclusively to Mr Robert John Morton (whose official postal address is made available to those who become a party to this licence agreement). The second person forms (you, your, etc) refer to the party to whom I grant the licence herein defined.
Words in emphasized type have the following meanings:
The software is the executable computer code, associated fixed data, screen designs and report designs which make up the intellectual property to which this licence applies.
The text is the text and graphic design of the User Manual and other document­ation pertaining to the software.
The fee is the previously-agreed amount of money you must pay me in return for my granting you this licence.
The computer is a single computer installation on which, having paid the appro­priate fee, you are entitled to use the software under this licence agreement.
The material is the physical media upon or within which the software and text are borne.
The design is the layout and graphic design of the screen displays and printouts produced by the software, and illustrations within the text.
The method is the way in which the software performs its functions, and the way of applying those functions as described in the text.
The package is the software and text plus the material.
A derivative is any software or text which embodies any design or method which is derived from the software or text.
A copy is one recording of the software or the text.
The active copy is a copy from which the computer can read parts into its im­med­iate memory for the purpose of execution.
A backup is a copy of your data as generated by the software which you make and hold for safekeeping.


Conditions
Below are the conditions, as interpreted under the laws of England, upon which I grant you licence to use the package for the purpose for which it is designed. The licence is automatically terminated if you breach any of them.
You become licensed to use the package on one computer when I have re­ceived cleared funds equal to the amount of the fee. Prior to this, you have no authority to use the package, and I have no obligations or liabilities in con­nection with your (or anybody else's) use of the package. If a cheque received by me for the fee has not cleared within 5 days of supply, you are obliged to return the package to me by recorded delivery mail.

When I have received the fee, I will issue you with a non-zero licence number which, together with your name, will be made to be displayed by the software. Prior to installation of your licence number, the software will have a limited life. You may not transfer your licence to another party without my written agreement. I will support the software from the date you become licensed for as long as the computer for which it was originally provided remains current technology.

You acknowledge the design, method and Copyright of the software and text to be my exclusive property. You shall not make available a copy or a der­ivative to another party. You may however make copies for the sole purpose of regenerating your original active copy in case your original active copy be­comes corrupted.

I reserve the right to make changes to the software and the text without notice and you accept that the way the software operates on your computer may differ from that described in the supplied version of the text, but that any such difference will not reduce the performance or functionality of the soft­ware.

I gratefully accept suggestions for improving the software or the text on the understanding that the suggestor has no claim to any suggestion which be­comes incorporated into the software or the text.

The immense complexity of the software means that its operation embraces an astronomical number of possible circumstances which is beyond the bounds of finite engineering resources to test fully. So although the software will perform correctly all the functions for which it was designed most of the time, it is possible that it may malfunction in circumstances which were not foreseen. You therefore accept that errors may exist in the software, and that although I shall be under no obligation to correct such errors, I will be most grateful to you for pointing them out and will try to correct them as soon as possible.

To work properly, the software relies on the correct operation of the compiler on which it is compiled, the computer on which it runs, the operating system and network software through which it accesses computing resources, and any other items of equipment and software it uses. These items are produced and sold by other parties over whom and over whose products I have no control or influence. A fault in any of these items can make the software appear to be at fault when it is not. I therefore accept no liability for apparent malfunctions of the software resulting from faults in these items or where these items are not performing in every respect according with their published specifications.

Loss or corruption of data you have entered using the software can result from causes other than software malfunctions. Examples are: power cuts, equip­ment malfunctions, operating system errors and faulty recording media. I ex­pect you to protect your data by making backups often enough to ensure that the cost of re-entering the data lost since the last fault-free backup was made is small enough for you reasonably to bear. For this and other reasons, I accept no liability for consequential losses resulting from use of the software.

You accept that errors and omissions may exist in the text and that although I shall be under no obligation to correct them, I will be most grateful to you for pointing them out, and will try to correct them as soon as possible.

The material remains my property. I lend it to you at no cost to you from the time I receive the appropriate fee to the time this licence expires or is re­voked. It is lent to you solely for the purpose of conveying the software and text to you initially. If the material fails in this purpose, then I will replace it.

Your sole remedies and my entire liabilities are as set out above. I will not be liable to you or to any other party for any losses, damages or expenses arising out of the use or inability to use the package. Notwithstanding the provision of any of the foregoing conditions, my liability in damages in any event where the law demands shall be limited to the amount of the licence fee received by me.
To read this commentary in conjunction with the software licence it explains, please flip back and forth between the two using your browser's back & forward buttons. Comment is made only on those clauses which have specific relevance to the nature of computer software.
Clause 3: Intellectual Property

People have little difficulty understanding the notion of ownership when applied to tangible material things. One readily understands that it is wrong to steal a car and that the laws of practically every country exact a penalty for doing so.

However, their understanding of theft is sadly lacking when it comes to intel­lectual property like computer software, writing and music. After all, copying a computer program does not remove it from its original owner's possession.

What they cannot seem to grasp is that what is sold for the amount of a family's weekly food bill took tens of thousands of man-hours of programming effort to produce. That cost, together with a fair profit, can only be recovered from the market if users actually pay for their copies. It they do not, quality will deteriorate and the industry could even die.

Clause 5: Improvements

Having completed a piece of software, I always had a constant rush of ideas for additions and improvements. All to often, after the event, users would come up with the same ones and expect some reward when their ideas were incorporated in the next release. Some ideas were indeed originated in the first instance by users. But not many.

Clause 6: Astronomical Complexity

Recent legal debate has gravitated towards the notion that computer software — as a saleable good — is no different from a vacuum cleaner. It must be just as fit for its intended purpose and as free from defect. A vacuum cleaner has a single — easily demarcateable — universal purpose wherever it is being used. Application software does not.

Businesses are as diverse as the people who run them and the markets they serve. So therefore are the data objects and processes used to control and record their goings on. This means that even standard applications have to be configured in an infinity of different ways, few of which can ever be tested within a viable time frame.

Advanced structuring techniques help, but sheer statistics alone dictate that problems must occur sometime. If buyer and seller are to benefit from soft­ware, the confrontational spirit of law must give way to a spirit of co-operation and teamship serving a shared interest in creating a satisfactory working system.

In countries in which such legislation effectively voids Clause 6, I fear that many software developers may consider it too risky to continue trading. This will result in a serious loss in the quality and diversity of software available in those countries.

Clause 7: Dependence on Others

A vacuum cleaner depends on no other mechanism in order to be able to perform its intended task. Not so with computer software. The latter relies on the proper performance of both computer hardware and system software in order to perform its own tasks properly.

These are extremely complex and their internal workings are not visible to the developer of the application software which relies upon them. One cannot rightly be held responsible for the malfunctioning of something which is out­side and beyond one's control.

Clause 8: Practical Limitations

There was once a wealthy businessman who bought a brand new very up-market sports car. One dismal winter's day he parked his car at the back of a building where it was dark and there were muddy puddles. So that he would be able to see his way back and avoid stepping in the puddles, he left his car headlights on while he went into a meeting. The meeting went on and on. Eventually, when he got back to his car it was very late. The headlamps on his car had become very dim. His car would not start. He had an evening appoint­ment which he missed.

He sued the garage who sold him the car for the consequential loss of busi­ness and the inconvenience caused by his new car's failure. He lost the case, but the garage proprietor did suffer considerable expense, stress and loss of time as a result. To the wealthy businessman it was neither here nor there. If one can be that ignorant about the workings of a car what chance does a software developer have with such a person? Clause 8 is an attempt to gain some protection against such as him.
---
Parent Document
| ©Apr 1994 Robert John Morton